The Dyson digital motor V10.
Its ceramic shaft is cured at 1,600°C to make it 3 times harder than steel, yet with half the density. With the impeller moved from the front of motor to the back, axial flow draws in cooler air to reduce the temperature and allow the motor to spin at up to 125,000rpm.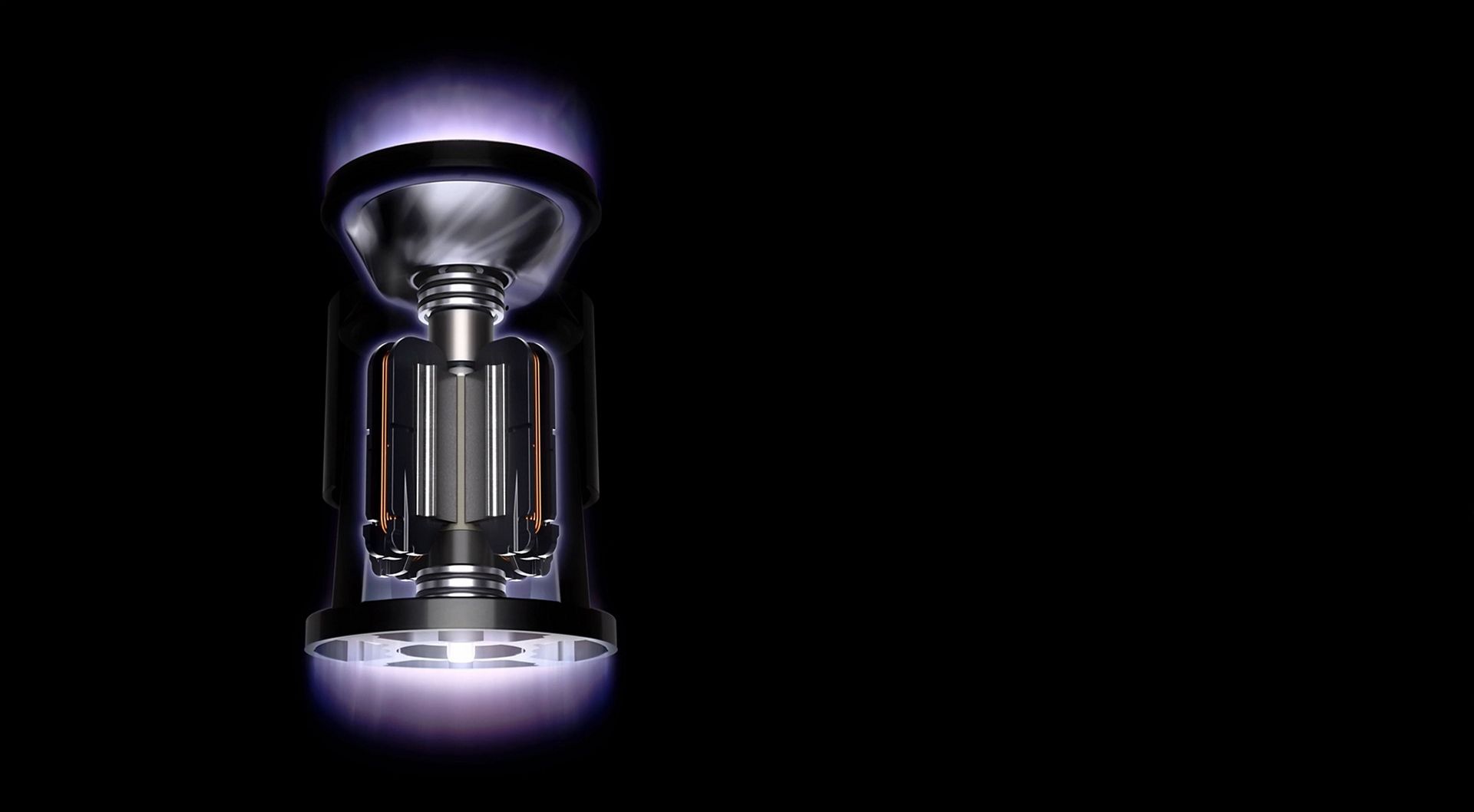 880

Layers of paper-thin laminated steel generate magnetic fields to spin the motor.

79,000

G-force generated inside each of the 14 cyclones.

125,000rpm

The speed of our fastest ever motor.
14 patented cyclones.
Generating forces of more than 79,000g, the vacuum flings microscopic particles – such as pollen and even bacteria – into the bin. By arranging each of the 14 cyclones concentrically around the central axis of the machine, air flows more efficiently through it. As the cyclone narrows, air is accelerated from 45mph to 190km/h to create the centrifugal forces that capture fine particles.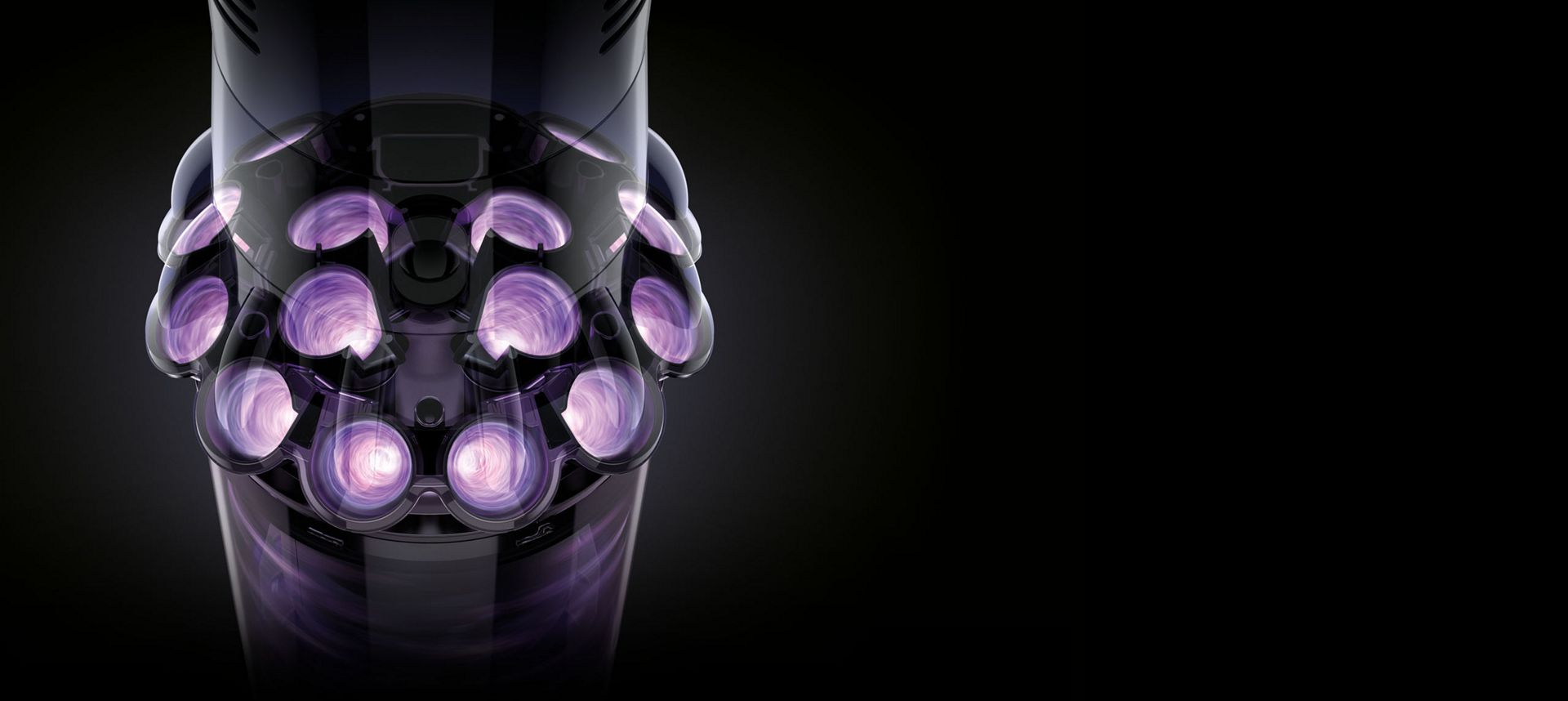 In-line configuration.
The 'point and shoot' alignment of the motor, bin and cyclone allows air to be drawn directly from the cleaner head into the cyclones in a straight line. This, combined with the more powerful Dyson digital motor V10, increases suction power to 150 Air Watts – that's 20% more than the Dyson V8™ vacuum cleaner.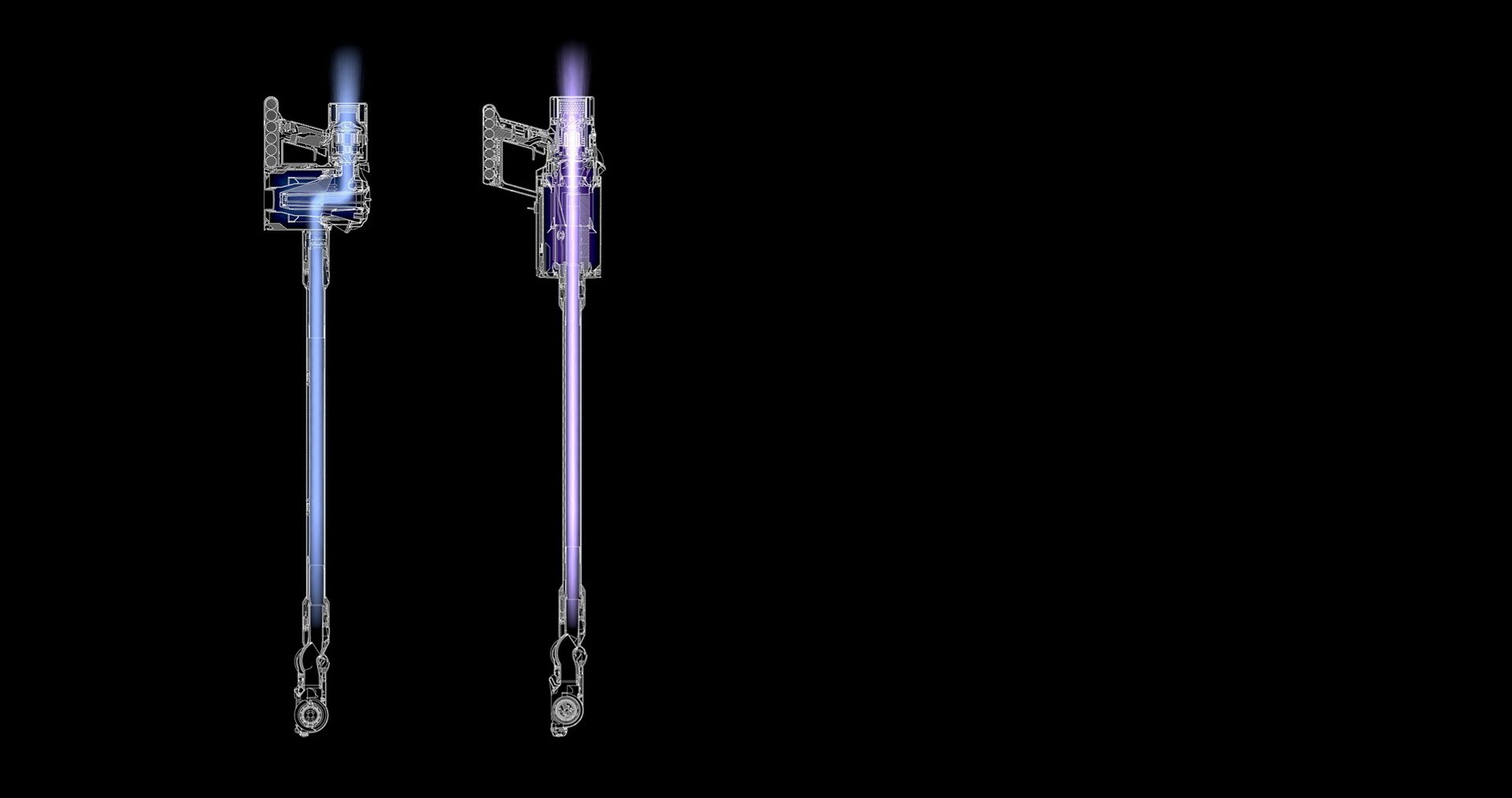 Whole-system filtration.
With an airtight gasket around the cyclone assembly and a pressurised rubber seal around the advanced filter, the whole system is fully sealed – preventing dust, allergens and bacteria from leaking back into the air. This means the vacuum retains 99.97% of dust as small as 0.3 microns, and expels cleaner air.1 Pre- and post-motor filters are combined into one unit for easier maintenance.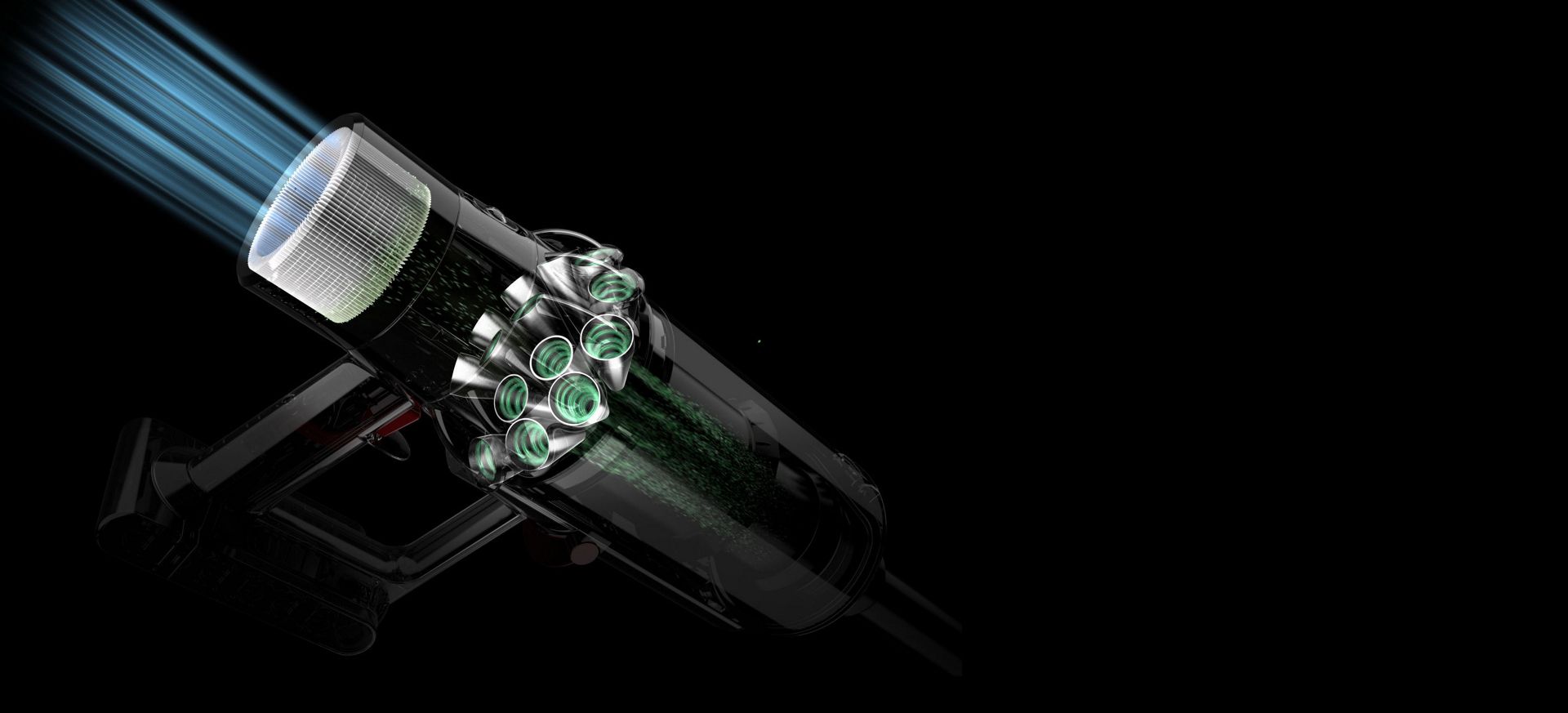 Acoustically engineered.
An aerodynamic motor housing regulates airflow paths around the motor, reducing noisy turbulence. It's combined with acoustic material to absorb vibrations, a post-motor filter that dampens sound, and an acoustic baffle which further reduces volume by blocking the line of sight to the sound source.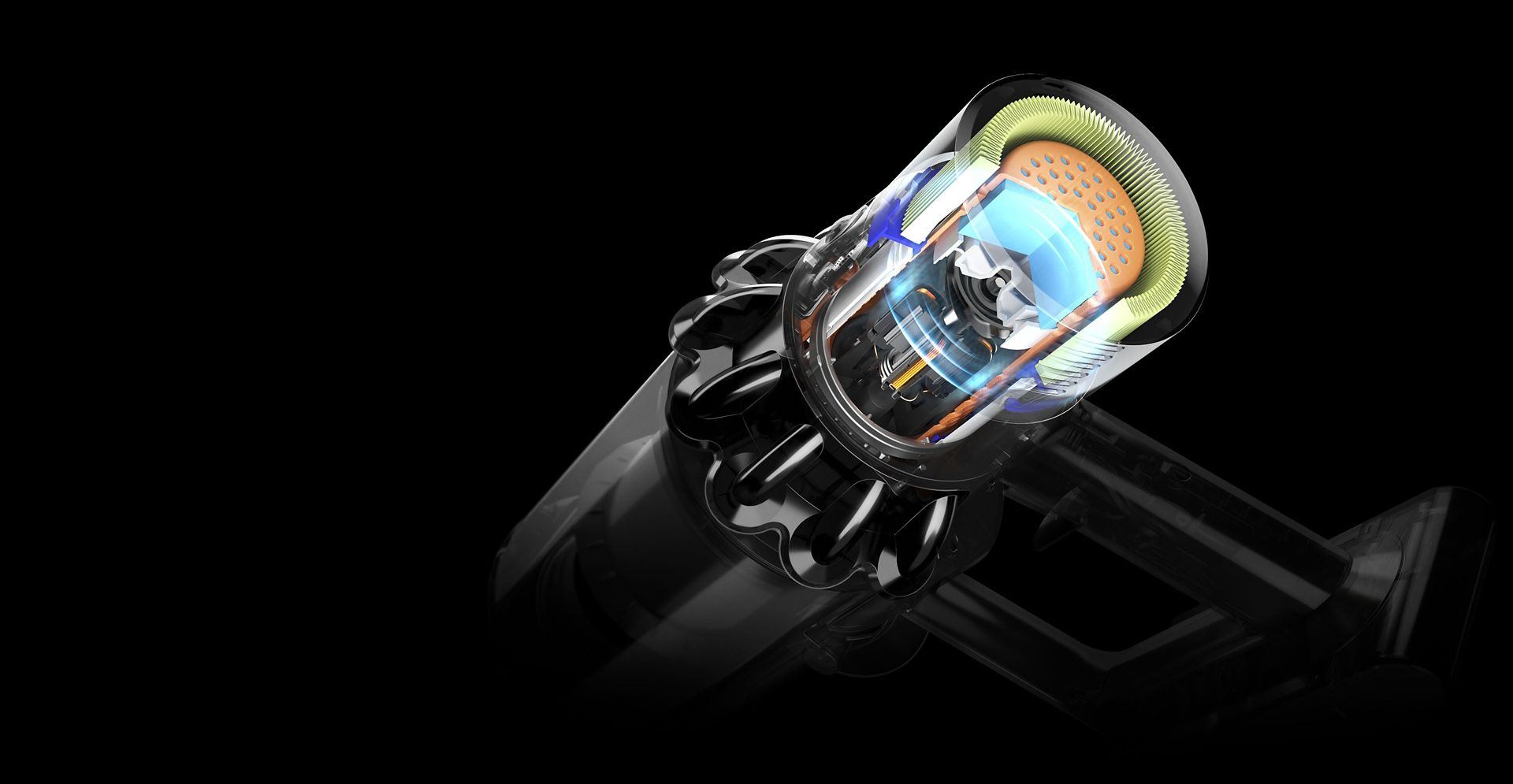 Powerful and versatile whole home cleaning. Up to 60 minutes of run time.
Engineered for complete hard floor cleaning.
Powerful suction to deep clean anywhere.
Up to 12 monthly 0% interest instalments from RM224/month.
Soft Roller Cleaner head

Engineered with soft woven nylon and anti-static carbon fibre, for hard floors.

Combination tool

Two tools in one – wide nozzle and brush, for quick switching between cleaning and dusting tasks around your home or car.

Mini motorised tool

Motorised brush bar, concentrated in a smaller head to remove stubborn dirt from mattresses, upholstery and stairs.

Mini soft dusting brush

Enclosed in a skirt of soft nylon bristles for gentle, vacuum-assisted dusting of delicate objects and surfaces.

Crevice tool

Engineered for precise cleaning around tricky edges and into hard-to-reach narrow spaces.

Docking station

Wall-mounted dock to recharge your vacuum and tidily store tools.

Charger

Charges your vacuum with or without the wall dock.

12 monthly 0% interest instalments at RM224/month with Maybank, CIMB or HSBC credit cards.