Latest technology
Dyson Purifier Big+Quiet Formaldehyde (Bright nickel/Prussian blue)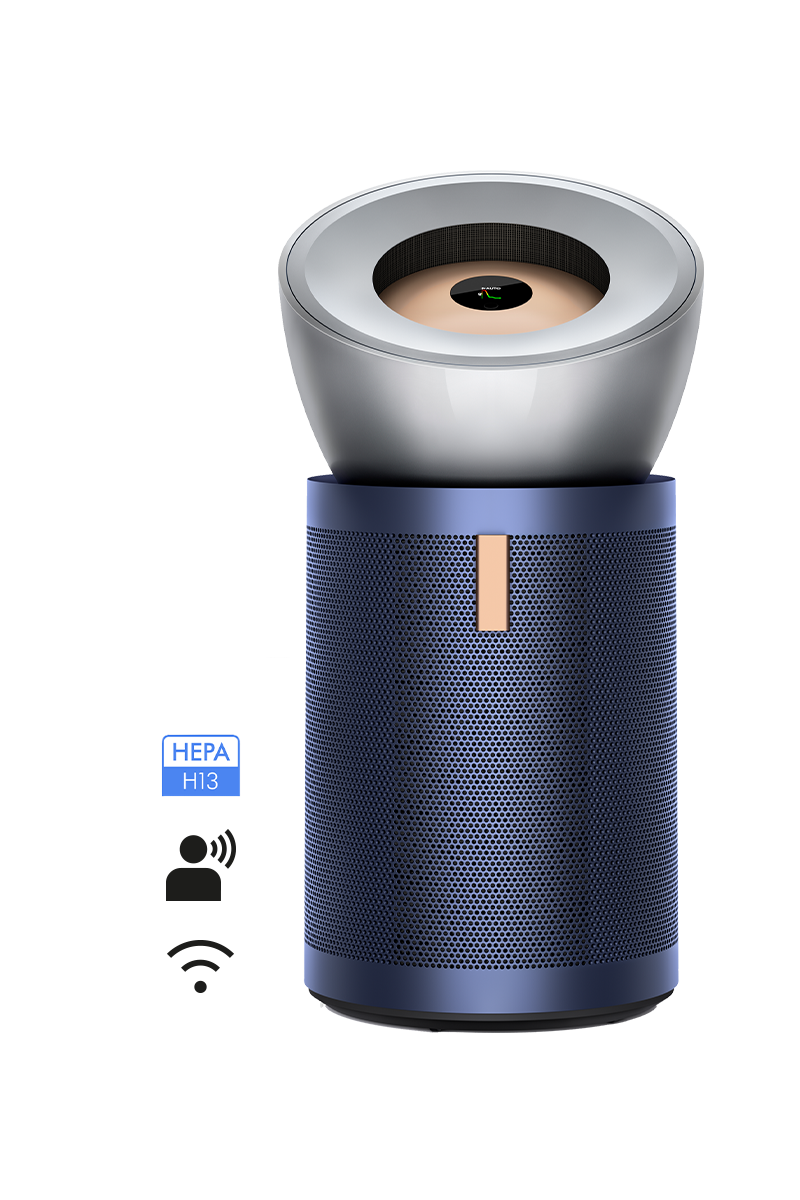 Latest technology
Dyson Purifier Big+Quiet Formaldehyde (Bright nickel/Prussian blue)
Currently out of stock
Available at your nearest
Dyson Demo Store.
Up to 24 months 0% interest free instalments from RM199/month.
Features
Long-range projection and circulation

Our latest purifier uses cone aerodynamics to deliver powerful, long-range projection – circulating air and driving even distant pollutants back through sealed filters. For whole-room purification, even in large spaces.1

Quiet, even at full power

An acoustically engineered motor bucket records just 56dBA of sound power at full-speed. With no compromise on performance.

Adjust your airflow

Adjust the angle of airflow at 0°, 25° or 50°, or mimic the feeling of refreshing air indoors using Breeze mode.

Control your air quality wherever you are

The MyDyson™ app gives you autonomy over your air quality. View which particles have been captured, set schedules, browse reports, and more.8

Auto mode

With the Auto mode feature, your purifier can sense, capture and report on pollutants in your home in real-time. This saves energy – meaning it only purifies when needed.11

Hygienic filter replacement

A hygienic replacement mechanism allows you to dispose of the HEPA filter in one click.

Discreet wheels

Easily manoeuvre your machine across a room. Designed for hard surfaces, the wheels are completely hidden from view.

Smart home purification

Connect and then control your air quality, hands-free, with compatible smart home voice services.13
Technology
Senses and reports, automatically

A suite of sensors, including a lifetime solid-state formaldehyde sensor, detects pollutants across a whole room. Our unique algorithm cross-checks data every second, analysing your air at a molecular level – automatically reacting to purify and display live results on the LCD screen and in the MyDyson™ app.

Destroys formaldehyde, permanently5

A catalytic filter continuously traps and breaks down formaldehyde molecules into water and CO25. And it never needs replacing.

Captures gases and ultrafine particles2

The HEPA H13 grade filter captures 99.95% of ultrafine particles as small as 0.1 microns2, while an activated carbon filter removes odours and gases.3

Fully-sealed to HEPA H13 grade6

Three phases of purification sit within our fully-sealed machine to trap pollutants inside, removing them from the air you breathe. Giving you reassurance that what goes inside, stays inside.6
Frequently asked questions
Sources of formaldehyde can include woods, glues, paints, varnishes, air fresheners, mattresses, household cleaners, and some fabrics found in household flooring and furniture. The Dyson Formaldehyde air purifier range includes a catalytic filter that traps formaldehyde in tunnels, breaking it down into water and CO2.5
The Dyson Purifier Big+Quiet Formaldehyde has our largest ever filtration system. We recommend replacing the H13 grade HEPA filter after using it for up to five years or sooner. The activated carbon filter should be replaced every two years or sooner if required. The selective catalytic oxidisation filter is permanent and never needs replacing.
The Dyson Purifier Big+Quiet Formaldehyde has been designed to work from the corner of a room, at least one metre away from the wall. For optimal performance we recommend projecting air either along a wall or across the room. You can adjust the angle of projection to suit your preference. ​
The Dyson Purifier Big+Quiet Formaldehyde has discreet wheels which are not visible when the product is upright. These wheels are designed for hard floors – so you can move your purifier around easily.

Expert guides on the MyDyson™ app
From quick-start and how-to guides to understanding different modes and screens. All tailored to you and your machines.
Specifications
Latest technology
Delivers HEPA purified air in large spaces up to 100m2. Quietly.
Captures allergens and 99.95% of ultrafine particles.2
Removes gases and odours.3
Detects and destroys formaldehyde, permanently.5
Up to 24 months 0% interest free instalments from RM199/month.
Only at Dyson
Delivers HEPA purified air in large spaces up to 100m2. Quietly.
Captures allergens and 99.95% of ultrafine particles.2
Removes gases and odours.3 Captures 3x more NO2. 4
Detects and destroys formaldehyde, permanently.5 Senses and reports CO2 levels in real-time.
Up to 24 months 0% interest instalments from RM212/month.
1The ability of purifying a large room up to 100m2 (10m*10m) proven from a Computational Fluid Dynamics (CFD) modelling, with the purifier placed in a corner of the room running at the maximum flow and horizontal projection reaching 10 metres to fully mix the room. The projection distance was measured from internal flow reach testing under the maximum directional airflow. The actual performance in real life condition may vary.
2Tested for filtration efficiency at 0.1 microns (EN1822, ISO29364).
3Tested to JEM 1467 (acetic acid, acetaldehyde, ammonia), GB/T18801 (formaldehyde, benzene) and DTM-003282 (NO2). Gas capture rates vary.
4Compared to adsorption by the standard carbon filter in Dyson Purifier Big+Quiet Formaldehyde (BP03).
5Third party full machine testing based on GB/T 18801-2022 formaldehyde cumulative clean mass testing with continuous injection until plateau of formaldehyde CADR is achieved. Results may vary in practice.
6Particle challenge by DEHS oil specified in EN1822 within a chamber specified in ASTM F3150. Tested in Max Mode at IBR US, for whole machine efficiency above 99.95%.
7Tested on tobacco smoke.
8App functionality may vary per market. Requires Wi-Fi and app enabled device. Standard data and messaging rates may apply. Requires iOS version 10 or above, or Android version 5 or above. Your mobile device must have Bluetooth 4.0 support.
9Levels defined by Dyson based on scientific literature. Ventilation alert when CO2 levels are 1500ppm or above.
11In Auto mode.
13Refer to the MyDyson app for compatible smart home devices and voice services.