Automatically senses, captures and traps pollutants for cleaner air
Cools you
Captures dust, allergens and H1N1 virus.1
Fully-sealed HEPA filter, removing 99.95% of ultrafine particles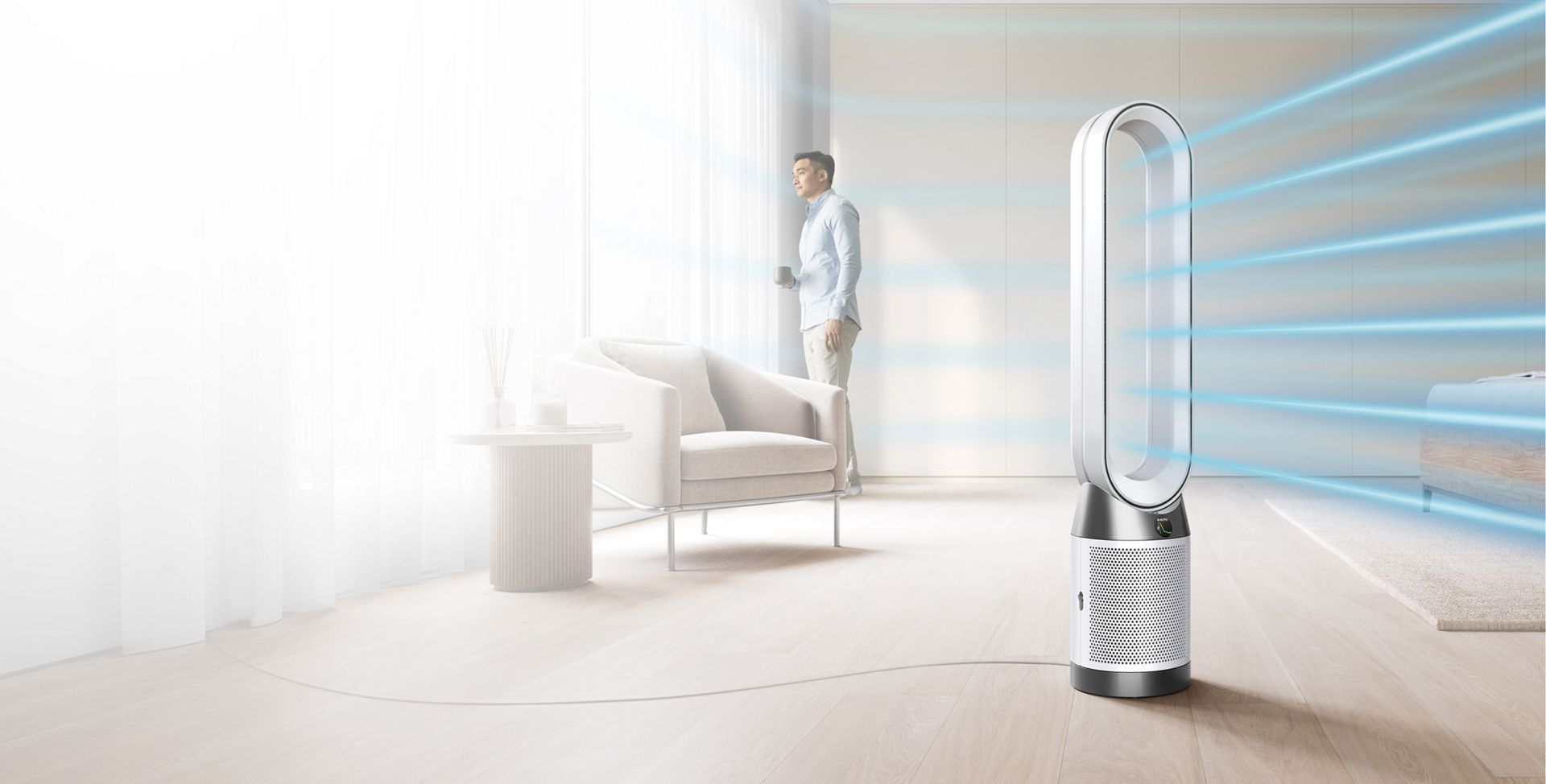 Poor air quality isn't just a problem outside. It's a problem inside too.
From pets and flowers, to sprays and stoves, your home can trap pollutants in the air. That's why Dyson purifiers remove them.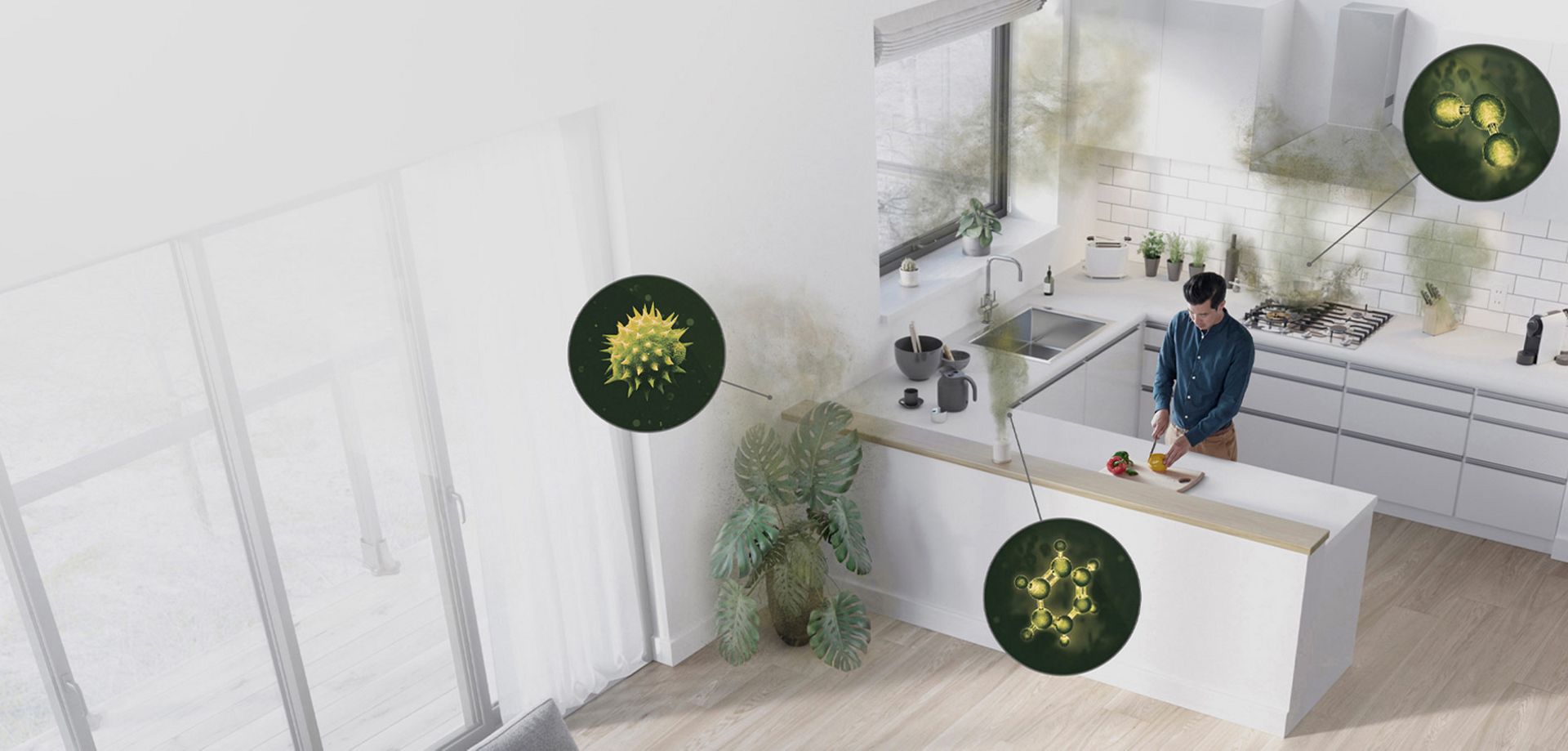 VOCs from aerosols and cleaning products
Some household products such as disinfectants and aerosols can release harmful gases into the air. These are known as volatile organic compounds (VOCs).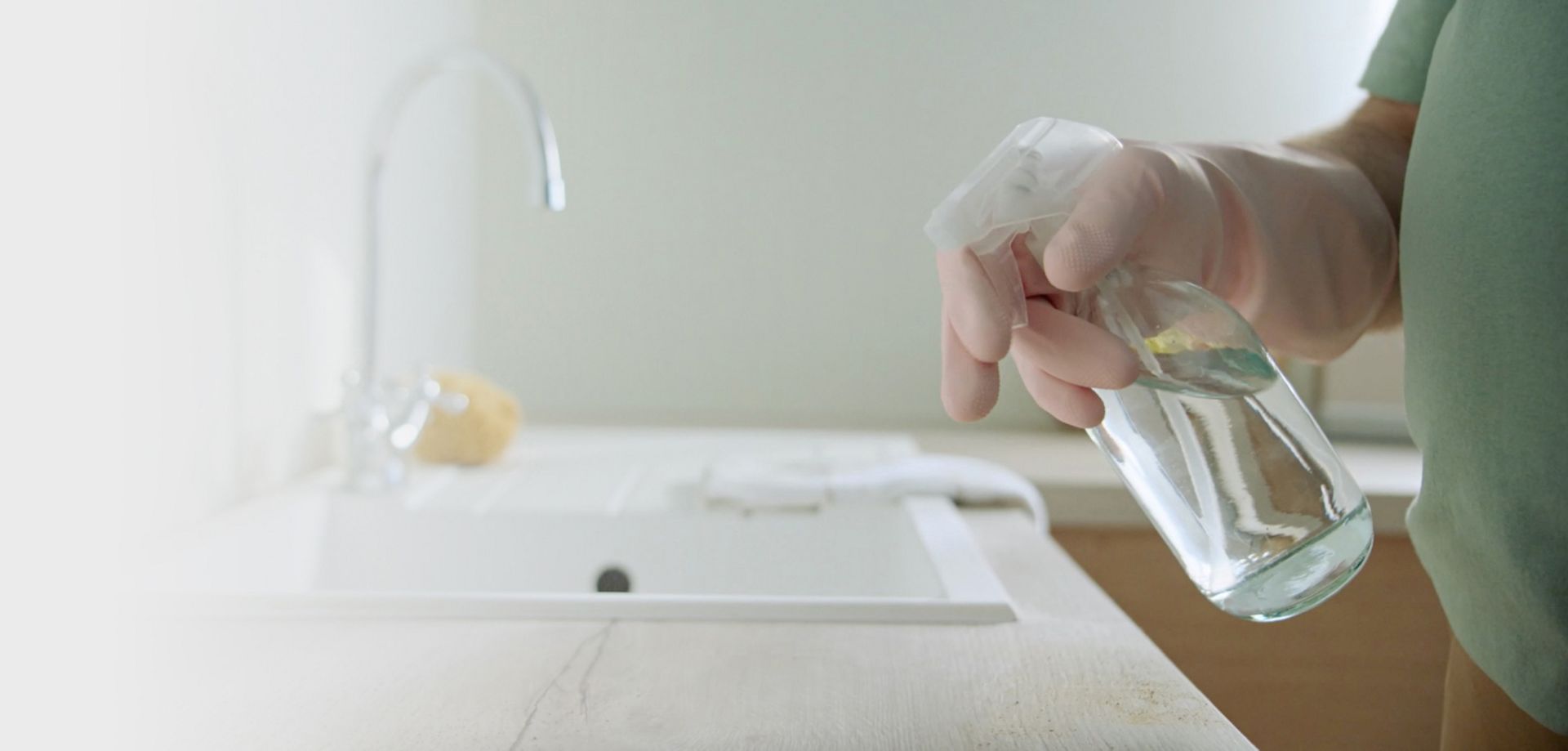 Odours and fumes from cooking
Emissions released from cooking can vary based on the temperature, method, and ingredients. Even after cooking, odours and potentially harmful pollutants can hang around in the air.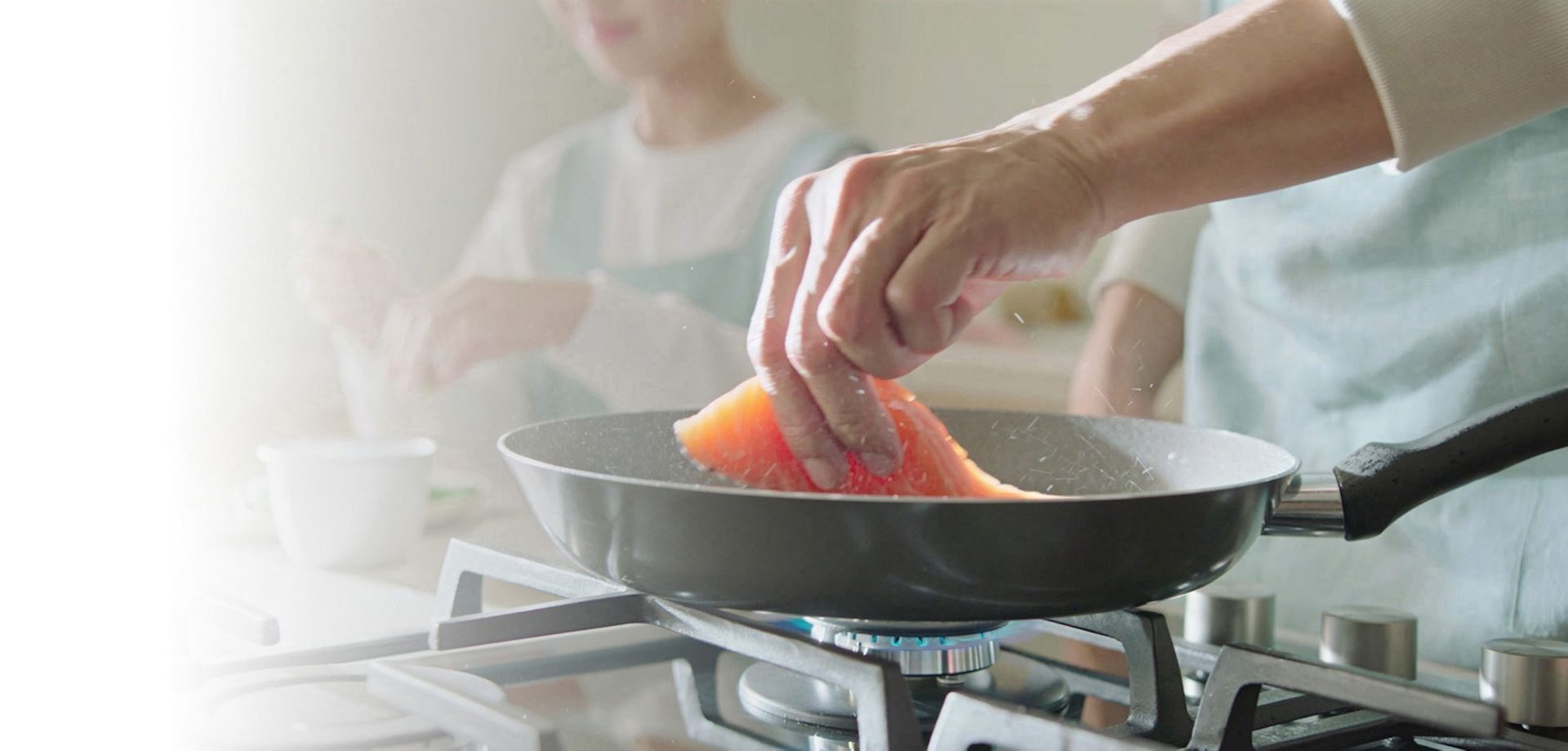 Pet odours and dander
Pets can bring unwanted odours into the home. Additionally, as pets move around the home, their dander lingers in the air before settling on surfaces.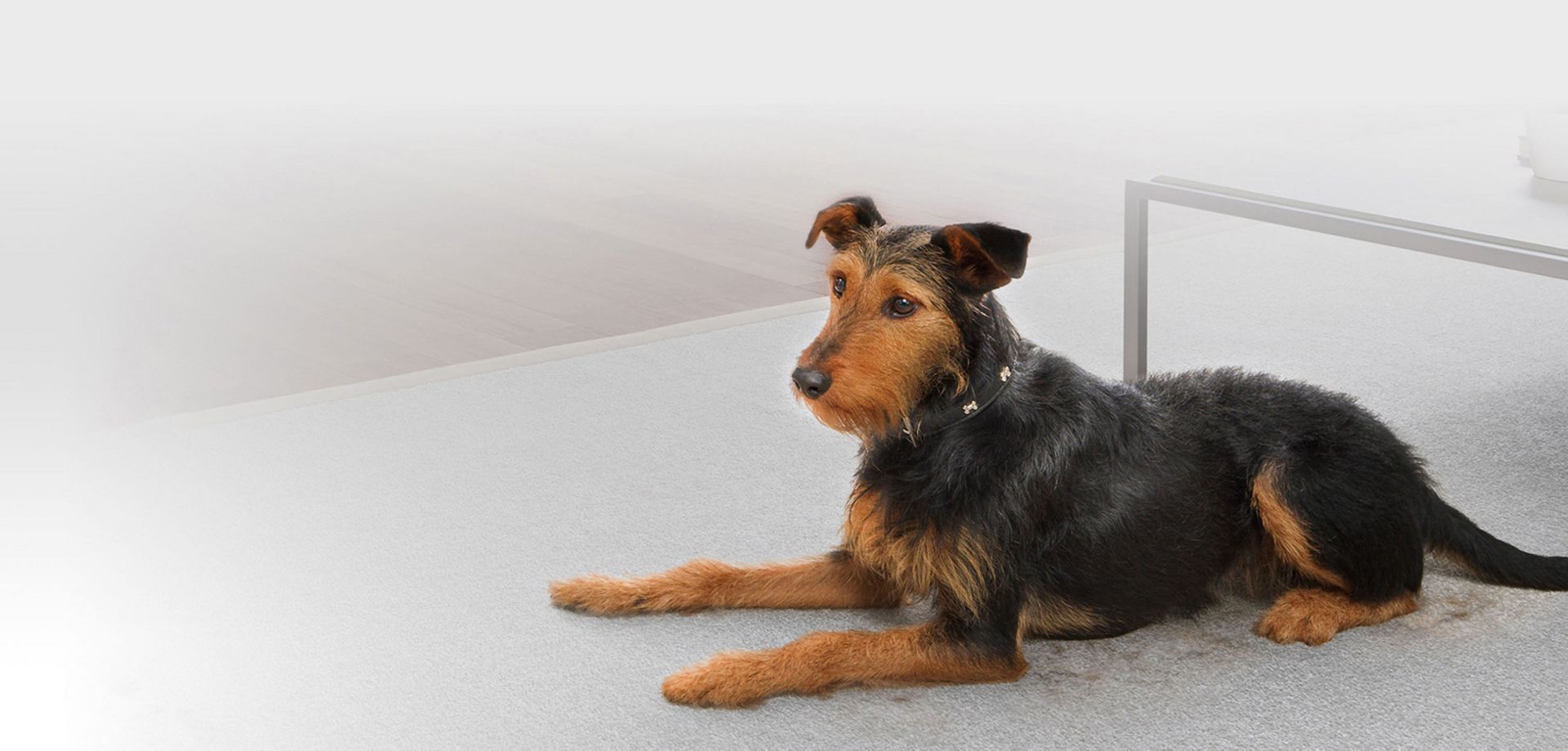 Captures common household pollutants
Pet dander, pollen and dust

PM10

Industrial emissions

PM2.5

Odours

Household fumes and cooking

Nitrogen dioxide

Gas stoves and car exhausts

Benzene and VOCs

Cleaning products and candles
We test beyond the industry standard. For real living spaces.
We test our purifiers in a room size of 81m3, with sensors that continuously measure air quality, filtration, sensing and circulation – to ensure the whole room is purified properly.1

Whole-room purification
Only Dyson purifiers have Air Multiplier™ technology to draw in distant pollutants and project 290 litres of air a second throughout the room.1

The long-range projection and powerful stream of purified airflow cools you down during the summer.1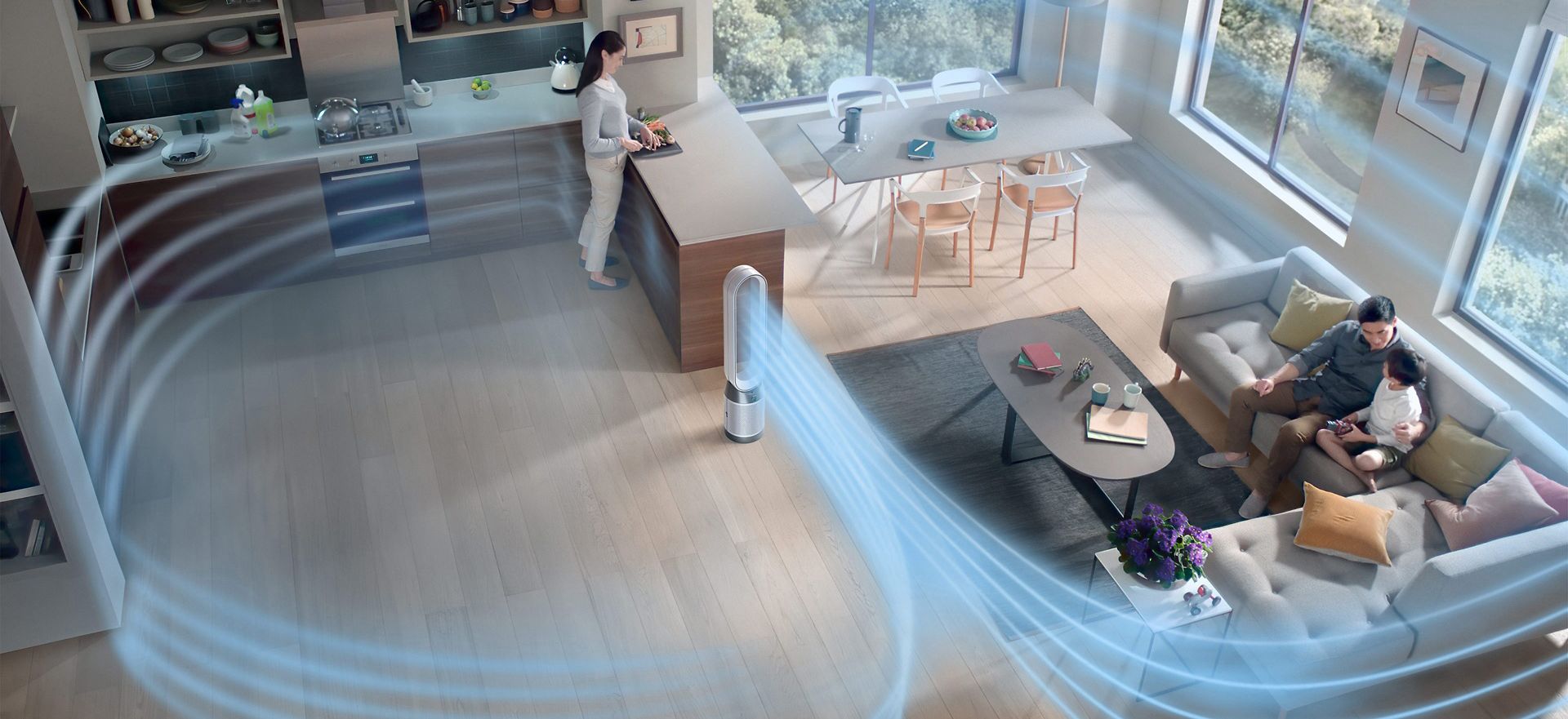 Two phases of filtration
The 360° sealed filter system combines a HEPA and activated carbon filter to remove microscopic allergens and pollutants.3

And it's not just the filter that's sealed to HEPA H13 standard, it's the whole purifier. So what goes inside, stays inside.3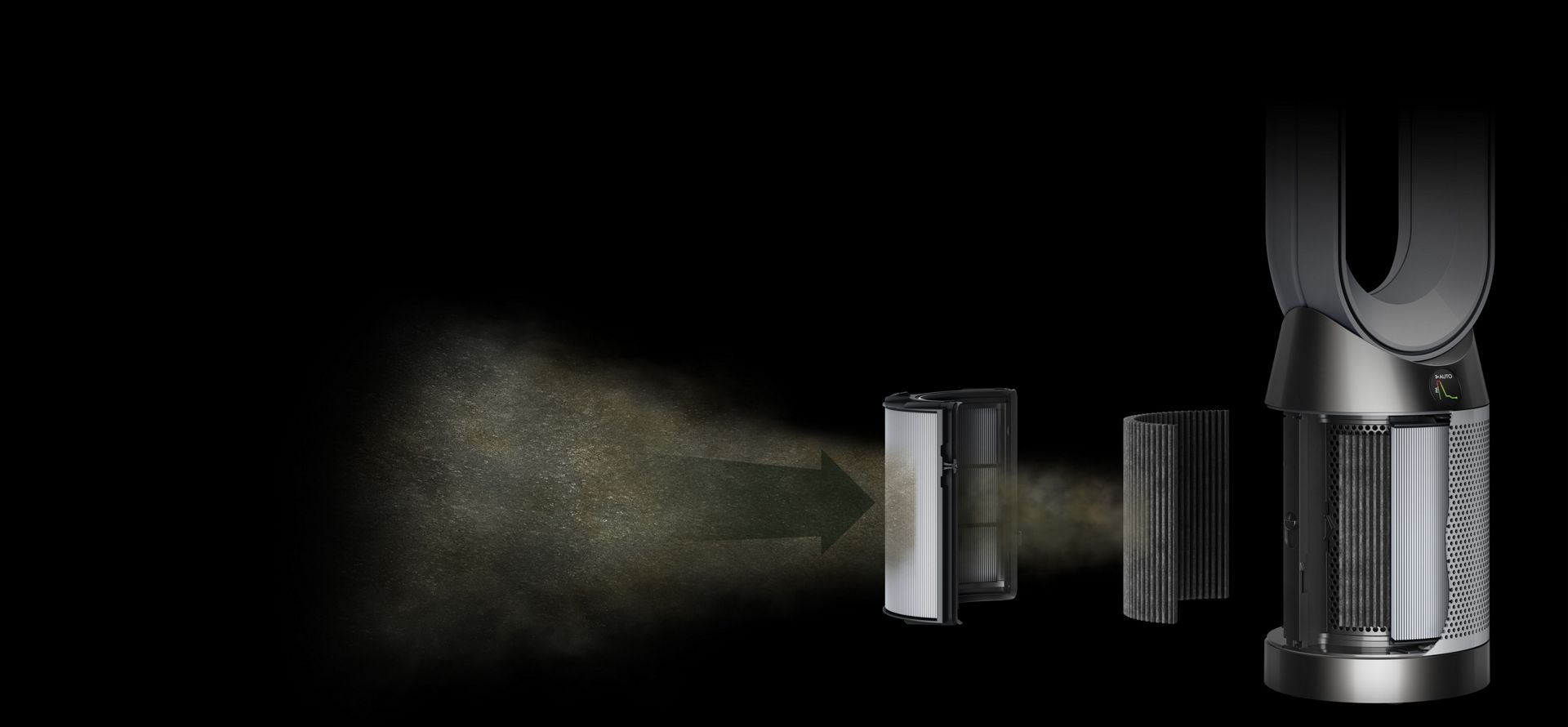 360° HEPA H13 filter
9 metres of borosilicate microfibres, pleated over 200 times, captures 99.95% of pollutants as small as 0.1 microns.3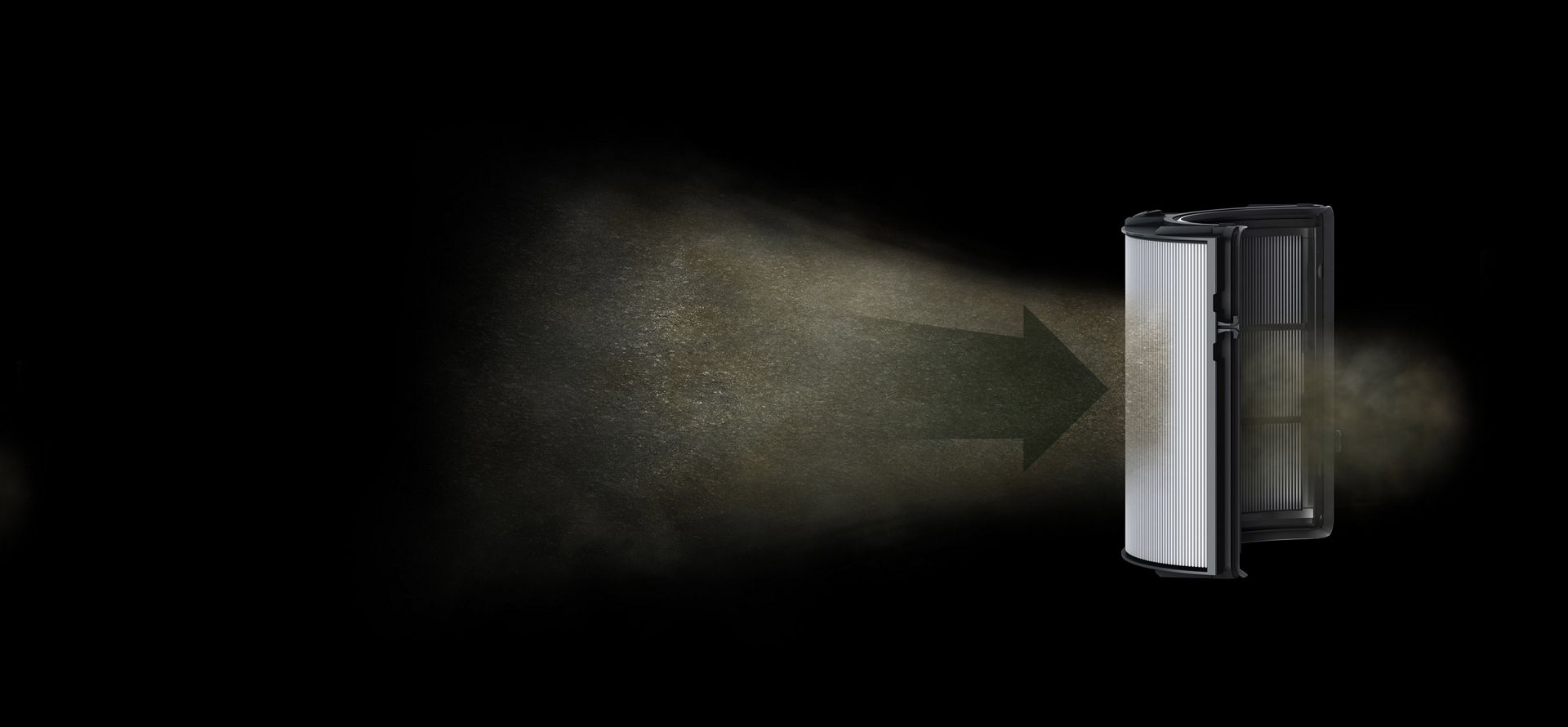 Activated carbon filter
A layer of activated carbon captures gases such as benzene and NO2 emitted from cleaning products, candles and gas stoves.3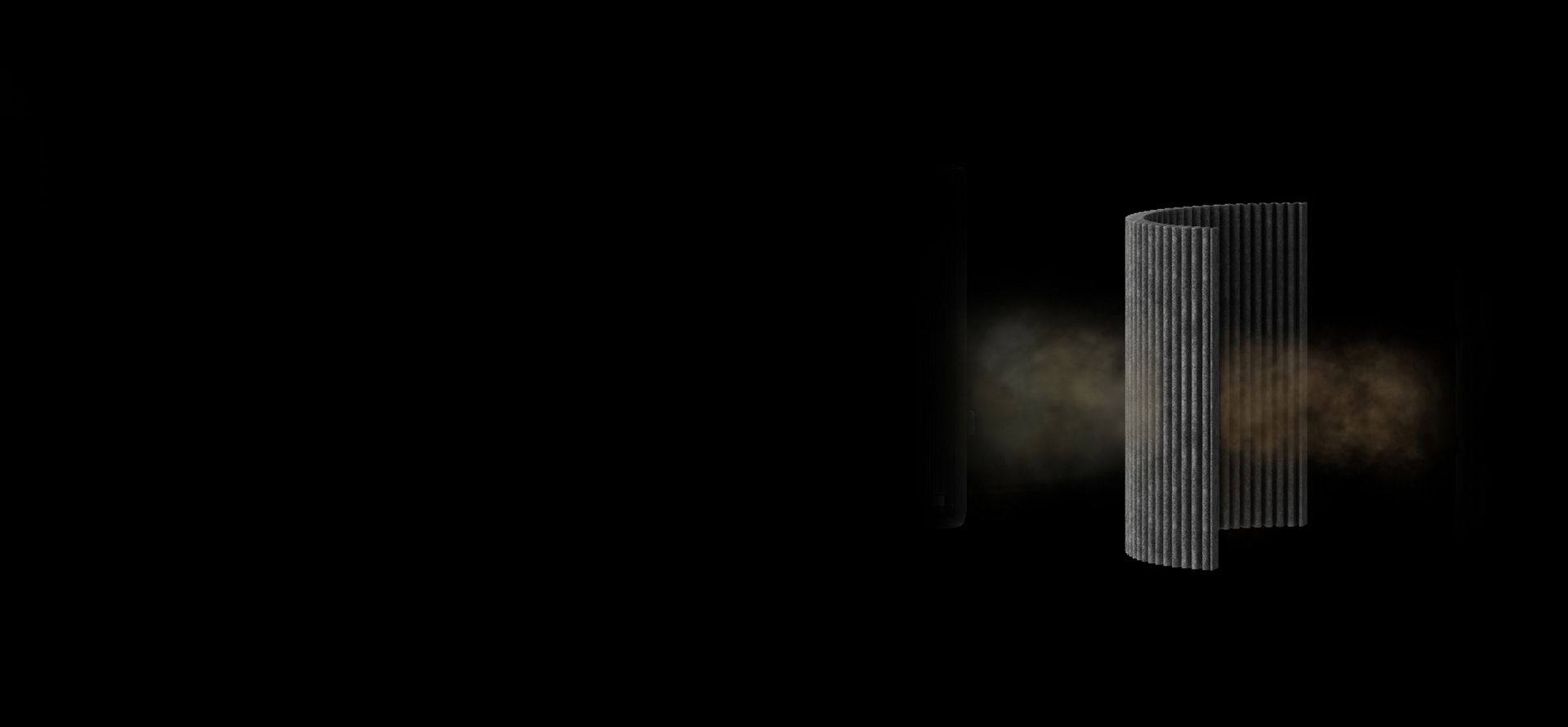 Senses and reports, automatically
Sensors constantly analyse your air, while our unique algorithm cross-checks data every second. To precisely monitor, display and react to your air quality.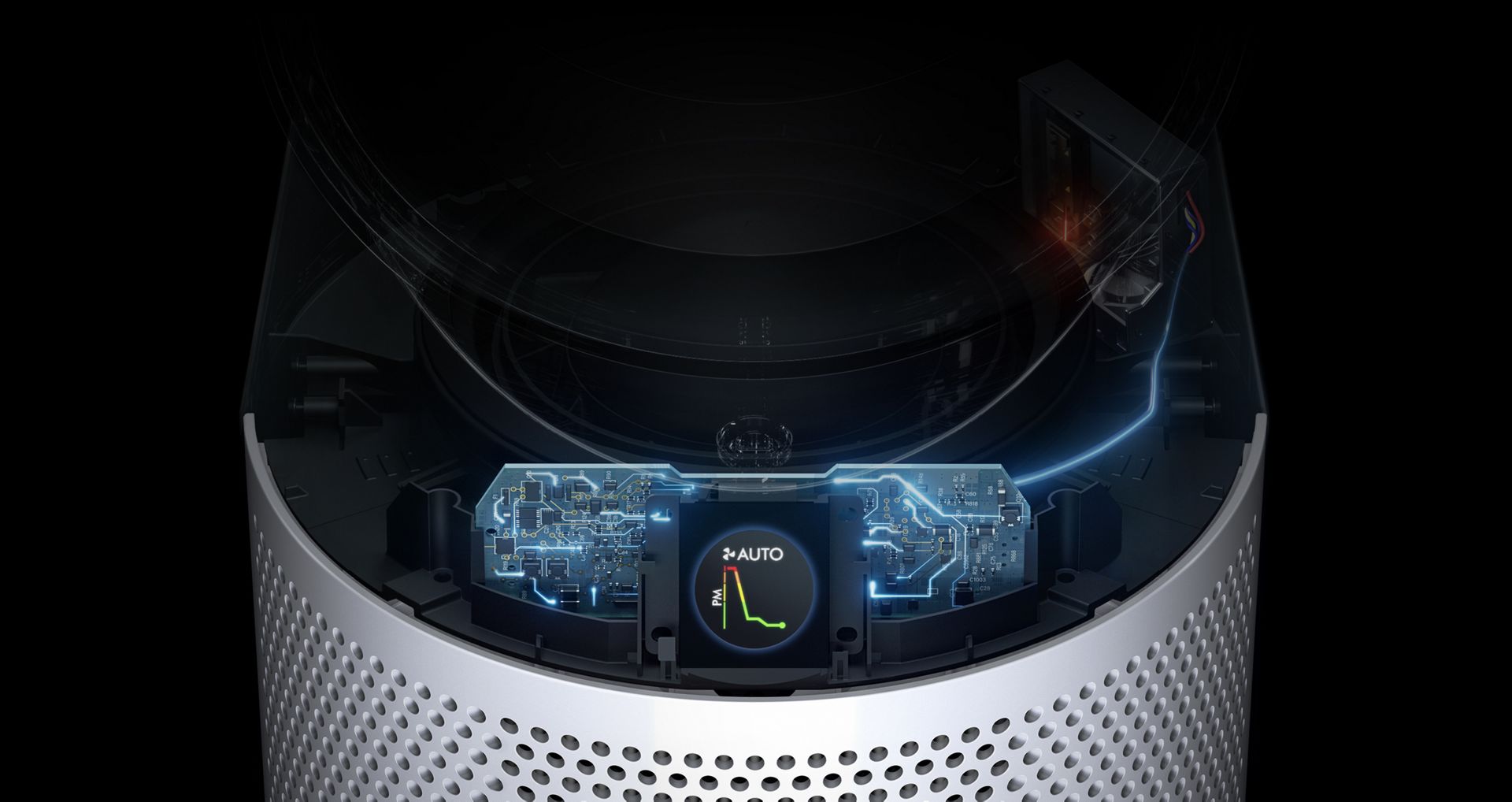 Everything you need on hand
Expert guides and content

From quick-start and how-to guides to understanding different modes and screens. All tailored to you and your machines.

Automated filter alerts

You'll never need to worry about when it's time to replace your filter, as the LCD on your purifier will let you know. Helping your machine to always perform at its best.

Tailored 24/7 support

Maintenance advice and troubleshooting, when you need it. You can also activate tailored machine support, direct to your inbox.

Get more from your Dyson machine with the MyDyson™ app
Register your machine for expert guides, quick-start, easy filter replacement, and to learn more about the different modes and screens.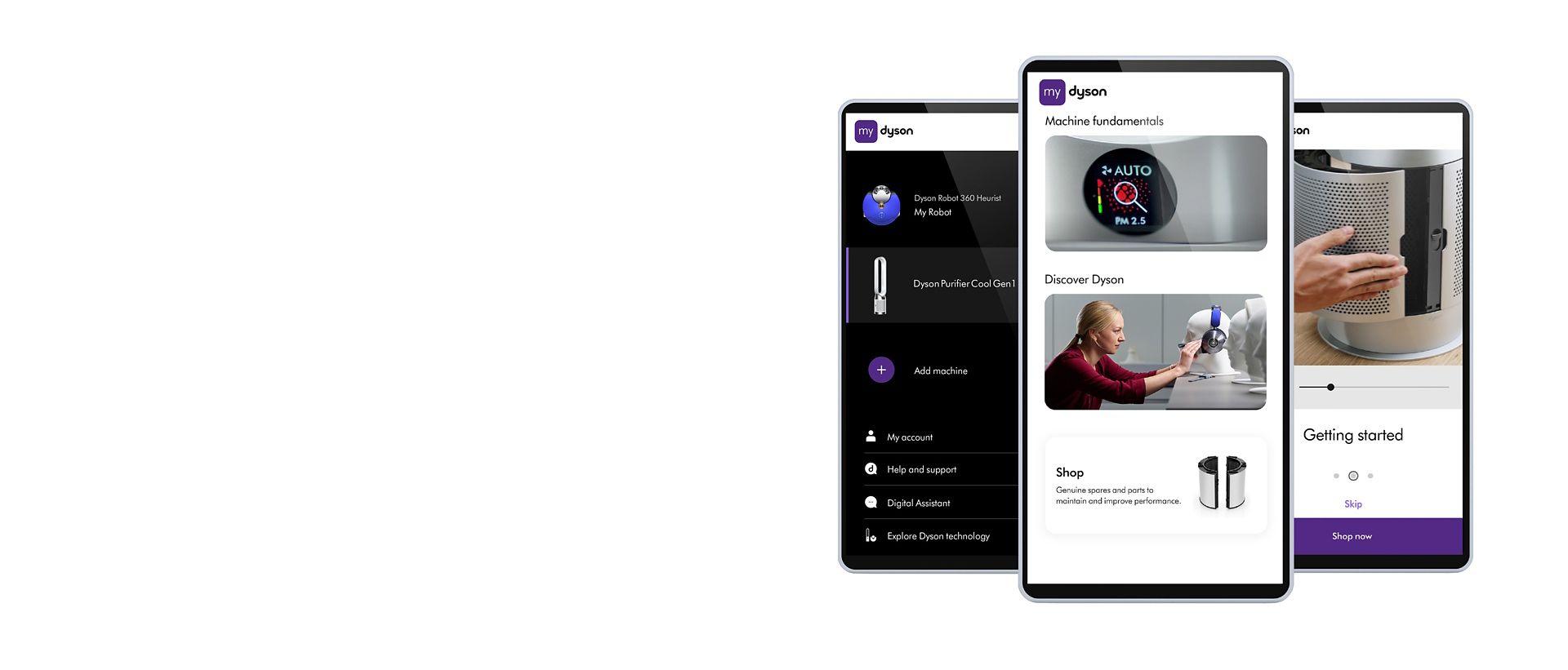 Latest technology
Captures dust, allergens and bacteria.
Whole-room purification. Cools you.
Control with remote. Not app compatible.
Exclusive 12.12 Pre-sale deal starting on 6 Dec.
Up to 12 months 0% interest instalments from RM183/month.
Frequently asked questions
We have upgraded our purification range so all Dyson purifiers automatically sense, are fully sealed and offer long-range projection. The added benefit of an LCD screen senses and monitors pollutants continuously, additional oscillation angles deliver purified air around the whole room,1 and the whole machine is fully sealed to HEPA H13 standard.4

The Dyson Purifier Cool Gen1 machine has the same core capabilities found in our purification products. The Dyson Purifer Cool Gen1 machine senses pollutants PM2.5 and PM10 – filtering all pollutants except formaldehyde. Although this machine doesn't have app connectivity, the remote control allows you to easily adjust settings on the machine.
Dyson engineers are perfectionists. Channelling our relentless dissatisfaction, we have re-engineered the Dyson Purifier range to be our first purifiers fully sealed to HEPA H13 standard. Capturing 99.95% of ultrafine particles and preventing pollutants from leaking back into the air you breathe.4
We recommend replacing the HEPA+Carbon filter every 12 months.5 That's because over time, filters can get clogged with pollutants, and even let unpleasant odours back into the room. The machine will alert you when it's time to change filters. A filter life reading can be found on the LCD screen.
Dyson air purifiers
Learn more about Dyson purifiers to find which suit your home.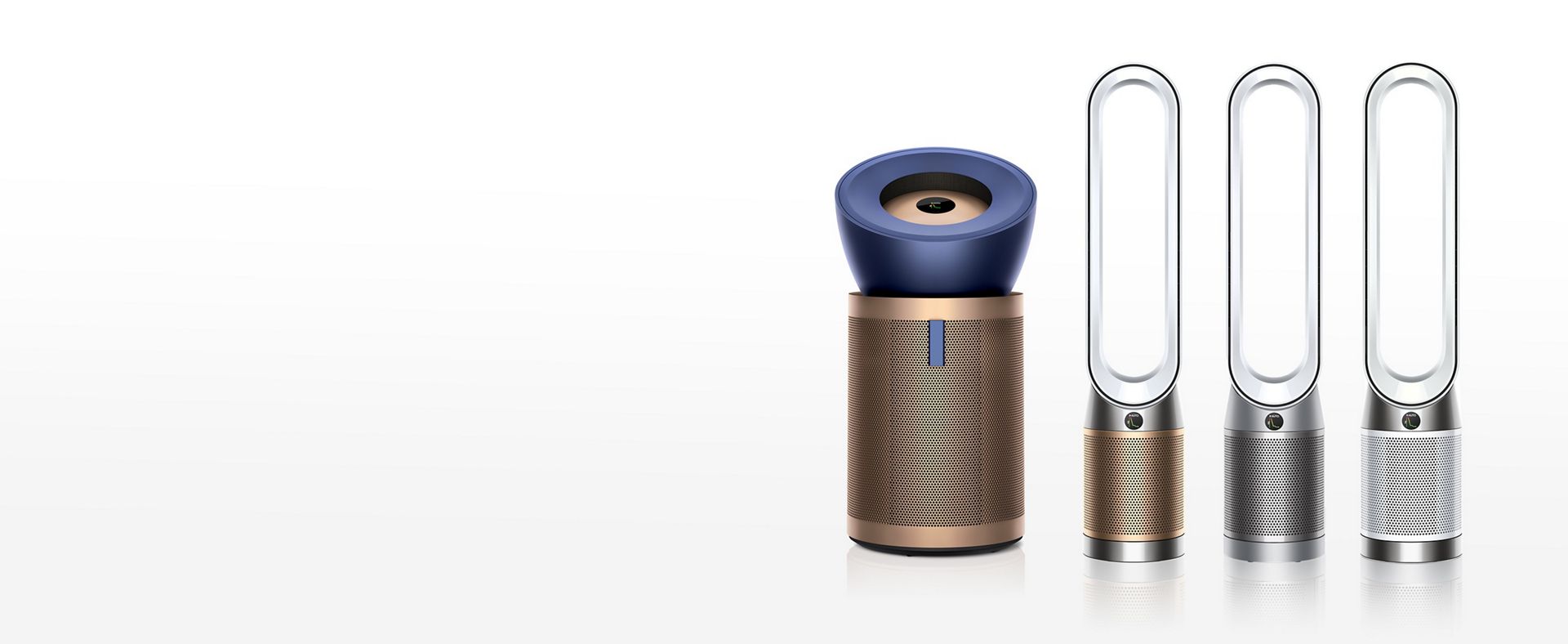 1In maximum setting. Tested for air projection (DTM801) and purification coverage in a 81m³ room (TM-003771).
2Tested for filtration efficiency at 0.1 microns (EN1822, ISO29463)
3Particle challenge by DEHS oil specified in EN1822 within a chamber specified in ASTM F3150. Tested in Max Mode for whole machine efficiency above 99.95%. Gas capture rates may vary.
4Particle challenge by DEHS oil specified in EN1822 within a chamber specified in ASTM F3150. Tested in Max Mode at IBR US, for whole machine efficiency above 99.95%.
5Based on 12 hours use per day. Filter life varies according to pollution levels.